How Market Segmentation Strategy can be Powered by Clear Competency Models
DIRECTOR OF SALES & MARKETING
Last week, Whitney Thurmond and I met with the leadership team of a mid-sized company with more than 400 sales representatives and sales managers. The company is in the midst of launching a new market segmentation strategy that will reshape the expectations for their sales teams. We were asked to share our insights on what they should do to ensure sales training and development supported the
new strategy.
We used the opportunity to introduce competency models and the benefits they provide as part of enabling a larger sales effort.
We shared three primary reasons to invest the time and effort to develop competency models.

They drive clarity of expectations.
A new market segmentation strategy inherently requires that the sales organization uses engagement strategies and sales processes to support the customer segment strategy. Well-designed competency models allow leadership to use a clear and consistent framework to describe these expectations to sales representatives and their managers.

They can be used for role distinction.
In this company's new market segment strategy, brands and sales roles are going to be aligned to better position their solutions to each customer segment. A competency model can help prioritize the competencies that will differentiate the approach to each customer segment.

They can improve talent acquisition and development.
A suggestion was made in our discussion that perhaps some people in the current sales workforce might not be well-suited to execute in the new customer segment strategy. As new talent is recruited and screened, competency models can be used to improve the likelihood of getting the right people on the team in the right positions. Training and development can be focused on areas where assessment data identifies the gaps in levels of proficiency — both at the individual level and across the sales workforce.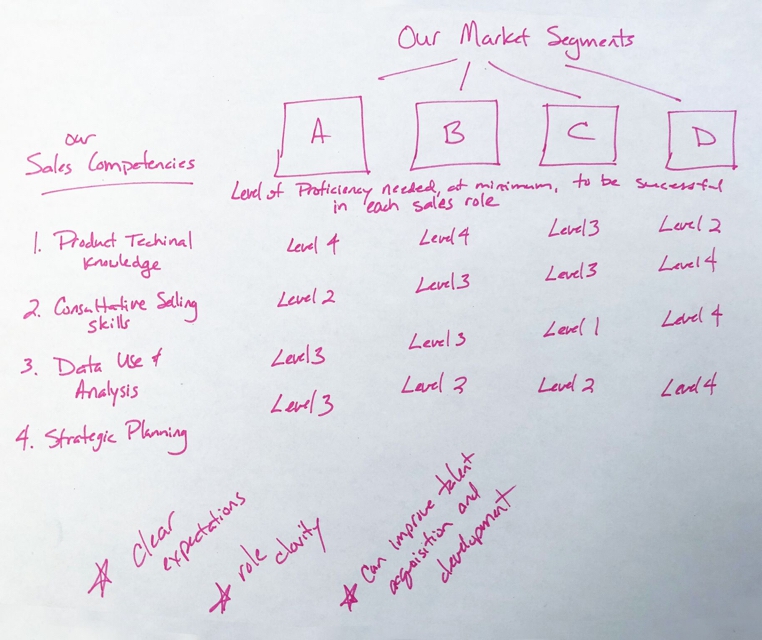 One point that this leadership team found important was that competency model development didn't need to be a burdensome, many months process. They were very interested in the rapid-development, "just enough" process we've used with other clients. It's a great process that uses just enough expert input, leadership engagement, and feedback on prototypes to have models ready within weeks. That was a relief to their training and development leader who recognized the need to have assets and experiences ready to go once the new market segmentation strategy is rolled out later this year.
Competency model development doesn't need to be a burdensome, many
months process.
It was a great conversation with great people. They are a big enough company to recognize the need to invest in talent management, but small enough to guarantee these decisions will be supported across the leadership team. If your company has a new market segmentation strategy, get your leaders together and discuss the benefits of an implementation strategy that starts with competency models.
DIRECTOR OF SALES & MARKETING